Todd Snyder NY
Menswear
Agency —
King & Partners
The eponymous clothing line of Todd Snyder, named one of GQ's Best New Menswear Designers.
Role —
Sr. Art Director

Words by John Brodie & Sasha Haines-Stiles
Press by Nahan
More Than Clothes
We set out to establish the Todd Snyder NY brand as the leading source for men's lifestyle and style advice. We broadened the contours of each catalog to include editorial content beyond men's fashion. We designed a consistent cover framework, creating the editorial feel of a magazine.
Updated Design Language
We designed a universal design system that works with the existing brand. All while elevating the catalogs to feel more editorial and refined. The system struck the balance of working well on its own while also taking a backseat in bold product stories.
A Personal Touch
Todd Snyder
is the person behind-the-scenes, the one making the magic happen. Therefore, it made sense to have him guide readers through each catalog. Every issue opens with a letter from Todd discussing the latest trends, places to visit, things to eat, music to enjoy, and much more.
Content Differentiation
Almost every major brand is using direct-mail catalogs to reach new and existing customers. How do we set
Todd Snyder
apart from the rest?
A table of contents. The opening spread of each catalog lets readers see the wide variety of featured stories, style advice, and products ahead. It indicates that each issue is not the same, which creates excitement and loyalty from readers.
Ongoing "Curated By" Section
To offer content beyond fashion, we created the Curated By section, featuring interviews with real people. Each catalog highlights a different person — ranging from Dan Kluger, a well-known NYC chef, to Miles Chamley-Watson, a U.S. Olympic fencer.
Art Direction for Unique Sections
With distinctive product stories and long-form interviews, some sections within each catalog were designed to have a design style of their own. We developed special designs tailored for those stories, closely matching the images and product narratives.
Sep. 2019 — WELL CONSTRUCTED
For the opening of a new TriBeCa store in downtown Manhattan dubbed The Liquor Store, this section drew inspiration from the neighborhoods rich architectural history.
Nov. 2019 — RETRO STYLE
Drawing inspiration from Todd Snyder's coming of age in the midwest, this capsule borrowed visual cues from 70's basements — using color and typography to visually tie it all together.
Mar. 2020 — PALM SPRINGS MODERN
This story was designed to bring forward the pattern and colors that were popular in mid-century Palm Springs.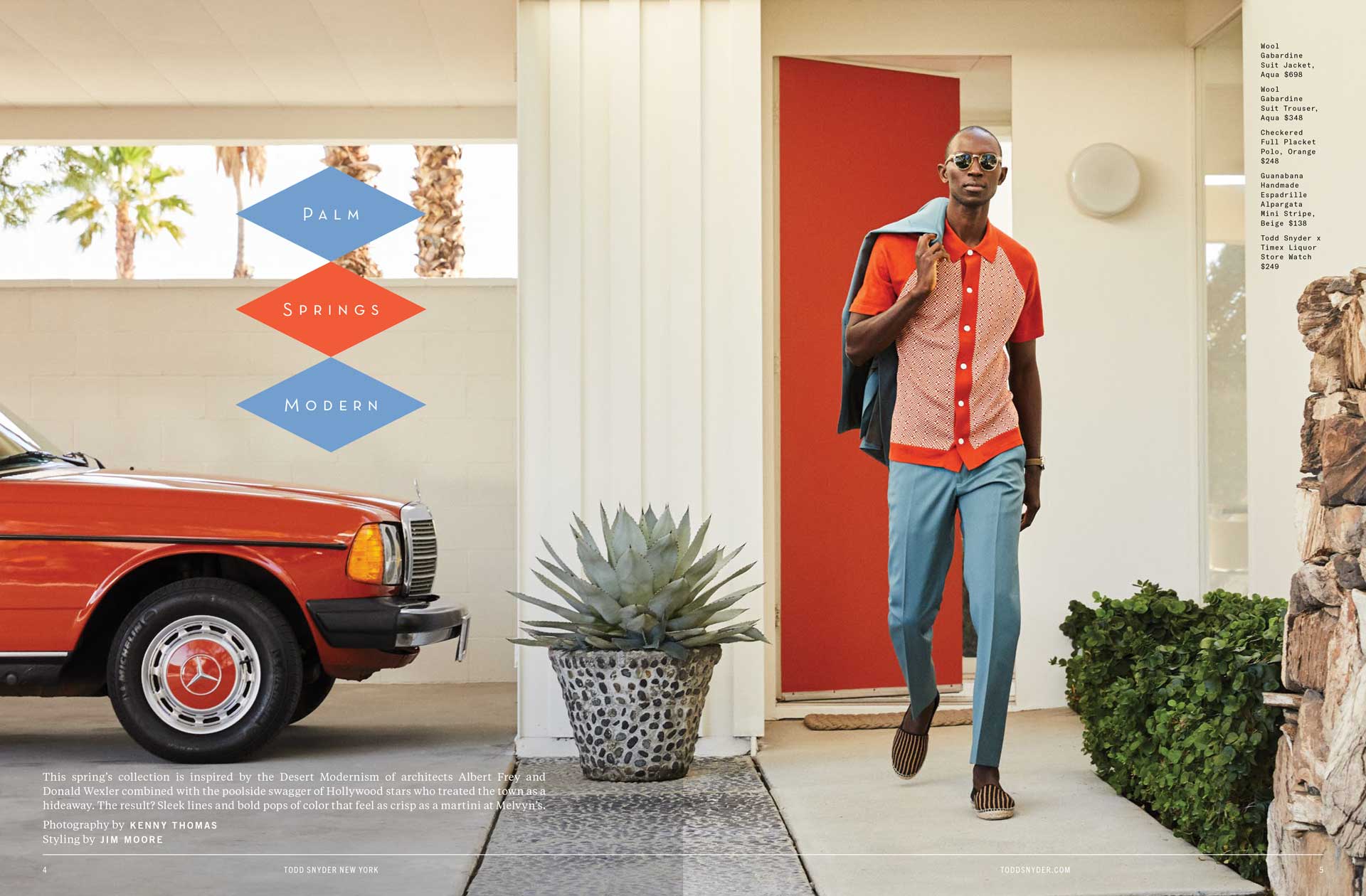 May. 2020 — THE SUMMER BLUEPRINT
Unable to shoot images due to COVID-19 pandemic restraints, we took existing product imagery and tapped illustrator Rob Wilson to bring them to life.
Sep. 2020 — BACK TO STYLE
As COVID-19 restrictions began to be rolled back and people returned to some semblance of normality, the idea of going back to wearing real clothes was portrayed in a back-to-school theme.
Nov. 2020 — L.L.BEAN COLLABORATION
Launching a collaboration with legendary Maine manifacturer L.L.Bean, this editorial section took the visual form of a nostalgic scrapbook.